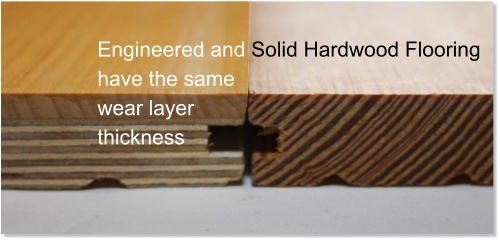 Engineered Wood Floors have a wood veneer that is different from laminate flooring. Engineered wood floors are constructed with a solid wood Veneer adhered to plywood backing; similar to furniture with wood veneer tops. Laminate floors are man-made with a melamine surface over machine printed or embossed wood or tile patterns.
Advantages:
Engineered Wood Floors are the perfect choice for homes constructed on concrete slabs, or homes located in tropical or very dry regions.
The main advantage of Engineered Wood Floors is its' ability to be installed on, above, or below grade, with nails or staples, adhesive, or floating. Basements are "below-grade"
Provided the existing floor is smooth and flat, engineered wood floors can be installed over most hard surface flooring or sub-floors including; concrete, terrazzo, marble, plywood, OSB, existing vinyl, vinyl tile, or ceramic tile floors
The plywood backing on engineered wood flooring prevents cupping due to moisture conditions and minimizes gaps due to seasonal changes.
Measuring:
Calculate square footage by multiplying the length times the width for each area you want to cover. Add 5% to the total square feet. To determine the number of cartons needed; divide the total square feet by number of square feet per carton.
Installation:
Each wood flooring manufacturer provides installation instructions in accordance with the sub-floor construction. Some manufacturers recommend nailing or gluing the floor over plywood, while others may only recommend nailing or floating. It is important to review installation instructions and make sure you have the proper tools and required materials before starting the job.
Glue down or floating is the usual choice for concrete slabs; sparing you the expense and labor involved when installing sheets of plywood on concrete or raising the entire floor with 2X4's and plywood.
Some engineered floors can be installed using the "floating method". Floating floors are not fastened or glued to the sub-floor, they installed with a specially designed tongue and groove that locks the planks together with a click, or a bead of glue on the tongue and/or groove. Floating wood floors are generally installed over a moisture barrier and a thin foam underlayment (pad) which provides insulation, moisture protection, and helps to deaden sound.
Radiant Heat in Concrete or below plywood:
Most engineered hardwood floors can be installed over radiant heat, however; products with certain Veneers are not recommended or warranted. Consult with the wood flooring and radiant heat manufacturers for specifics.
Construction:
Engineered wood floors are constructed with a Solid Wood Veneer bonded to a plywood backing. The plywood backing is typically 3-5 layers of soft and hardwood layers that are glued (laminated) in different directions to provide structural integrity. The top surface; or the Veneer is bonded to the plywood core.
Veneers are available in most Exotic and Domestic wood species, including, but not limited to; Oak, Brazilian Cherry, Maple, Heart Pine, Santos Mahogany, Walnut, and Pecan with veneers ranging in thickness from 2mm-4mm.
Factory Finished Engineered Wood Flooring is a ready to install floor; no sanding, staining, or sealing, all of the work has been done at the factory; providing you with an instant wood floor.
Most Factory Finished wood flooring is now protected with a durable Aluminum Oxide Urethane Finish, providing years of durable performance.
Factory finished Engineered Floors are manufactured with a Micro, Kissed or Beveled edge. Seams edges are darker and typically more visible with these edges. The Micro, Kissed or Beveled edges do not detract from the beauty of the floor, however, the floor will not have the same appearance as a wood floor that was sanded flat, and finished on-site.
Unfinished Engineered Wood Floors are also available for Professional on-site Sand and Finish.
Maintenance:
Follow the Manufacturer's Recommendations
Doormats: prevent dirt and sand from being tracked on the floor.
Rubber backed mats may cause permanent marks on the floors finish.
Use only Manufacturer approved Cleaners.
Sweep or vacuum regularly with a soft bristle broom, or soft vacuum attachment.
Sand, dirt, dog hair are abrasives, sweep and vacuum frequently to prevent dulling the floors finish.
Do not Damp Mop your floor
Warranty:
The specifics of each manufacturer's warranty vary; review and compare warranties.
Most Engineered Wood Flooring Manufacturers Warrant the structural integrity of their products; meaning, the warranty covers ply separation commonly referred to as delamination.
Common Warranty Exclusions:
Color variations:
Wood is a natural product; you can expect your floor to have varying degrees of light and dark boards, and different grains. This is the beauty of wood products, no two pieces alike.
Damages:
Scratches, gouges, abrasions, indentations or anything else we inflict on a floor are generally excluded. Chairs and furniture should have thick felt floor protectors installed on the legs/bottoms. Sliding and dragging furniture on the floor may gouge, indent and scratch the floor. High heel shoes, especially those with missing tips leave indentations in the floor; the wood is not soft, it's just reacting to a tremendous force of pressure.
Color Changes:
All wood products change color when exposed to light. Areas under furniture and area rugs will remain the original color while exposed areas will darken. Moving furniture and area rugs on occasion minimizes color changes. Over time the lighter areas will darken when exposed to natural and artificial light; the flooring is not ruined.
Water damage:
Damages due to water; flooding, leaks, overflows, or improper maintenance may create a number of conditions that may require the attention of a professional.
Water and wood don't mix-don't wet mop your wood floor!
In the event of water damage dry the floor as quickly as possible. If the water damage is severe Cupping, Buckling, Warping, and Gaps may occur; contact your insurance company for immediate Professional Wood Floor Water Restoration.
Moisture conditions, particularly in concrete slabs may cause edge peaking/swelling. The visibility of seam edges may change with the seasons.
Relative Humidity:
Engineered Wood Floors don't expand or contract as much as solid wood floors, but in conditions lower than 35% relative humidity, the flooring may experience gaps on the side and/or end seams. These gaps should close during the humid months.
Life Expectancy:
Some believe engineered wood floors are a compromise for solid wood, however; it has been proven that with proper care and maintenance engineered flooring will last as long as a Solid Wood Floor.
Wood flooring is an investment that adds value to your home; its' beauty and warmth cannot be underestimated.
Manufacturers of Engineered Wood Flooring:
Award Hardwood Floors Mannington Wood Floors
BR-111 Mohawk Hardwood Floors
Bruce Hardwood Flooring Mullican Wood Flooring
Capella Floors Permagrain Wood Floors
Columbia Wood Flooring Shaw Hardwood Floors
Kahrs International Somerset Wood Floors
Lauzon Wood Floors Tarkett Wood Floors
Mercier Wood Floors Zickgraf Hardwood Company
When Problems arise with a wood floor hire your own Independent Certified Wood Flooring Inspector:
If a problem arises with a wood floor it is in everyone's best interest to commission a Certified Wood Flooring Inspector.
Problems with gaps, cupping, crowning, buckling, discoloration, splits, finish problems and other concerns are investigated by Certified Wood Flooring Inspectors to determine the source of the complaint and the responsible party/parties.
Certified Wood Flooring Inspectors are trained to perform these inspections and submit a report based on field test analysis and observations found upon inspection.
Independent Certified Wood Flooring Inspector's are available to anyone in need an inspector.
Recommended Cleaning Products for Engineered Wood Floors: