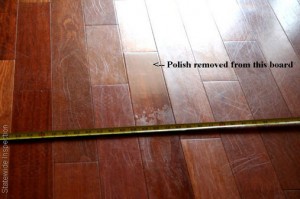 There are so many products on the market sold to clean & shine your wood, laminate and vinyl flooring in one easy step. The problem is, these products are not recommended by wood or laminate flooring manufacturers and any damages caused by them are not covered by the manufacturer's warranty.
Clean & Shine products contain floor polish;  when using these products dirt mingles with the polish and dries within it. On most hardwood floors the polish dries to a dull film that eventually scuffs from foot traffic,  dog's nails, sliding or rolling furniture and children's toys. The end result is a filmy, scuffed and dull floor.  The problem is compounded when more of the product is applied to the floor believing it will restore the shine and fix the problem, when the fact is, over time the polish builds up on the floor and the appearance gets worse.
The good news is, these products seldom damage the original finish of the floor. The bad news is, it takes a bit of elbow grease to remove it. The picture illustrated above had approximately 3 coats of Clean & Shine product applied to it. Heavy spots of the product appear whiter and areas with three dull streaks were caused by the dog's nails. The arrow marks a section of one board that was cleaned, revealing no damage to the floor's original gloss.
To remove polish from the floor apply rubbing alcohol (Isopropyl Alcohol) to a white towel, rub in the direction of the wood's grain- turn and dampen the towel ( with rubbing alcohol) as needed. DO NOT pour rubbing alcohol directly on the floor and work in small sections until all polish is removed. Repeat as needed for removal of stubborn drip spots or where there's a heavier build-up of polish.